Tree and Shrub Pruning and Removal
By choosing ArborPro Idaho LLC as your pruning choice, you can rest assured that the work will be done to the highest arboricultural standards set by the International Society of Arborists.
Assessments and prescriptions including pruning or removal will be according to the recommendations of a Board Certified Master Arborist, Seth McKenzie.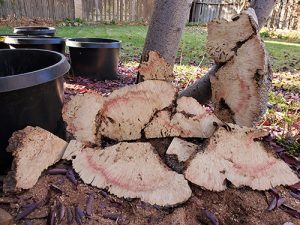 During jobs, our standard policy is to reclaim as much of the urban lumber as we can. The Treasure Valley has a incredible resource in its locally grown hardwood trees. We believe it's better used again than burnt or chipped because it's beautiful, valuable and better for the environment.
As a ISA Board Certified Master Arborist, Seth is exceptionally well qualified to provide sound and valuable advice when it comes to your trees. He can help you understand the level of risk associated with that old beautiful tree that may have heavy limbs above your house and give you guidance as to mitigation of the perceived risk.
He can help determine what might be causing a noticeable decline in health, help select plants that will do well on your landscape installation projects, help construction contractors devise plans to establish tree protection zones and procedures to help mature trees thrive through the construction process and for years into the future.
For large developments and HOA's Seth can perform a comprehensive tree inventory and management plan. This is one of the most proactive and valuable things a property manager or association board can do. Knowing the total number of trees owned with their locations, their species (and which of these are performing well or poorly at the specific location), health of each, risks associated with them, actions needed to improve the trees long term prospects, which significant pests (and diseases)  are present can result in long term benefits that by far outweigh the cost of the tree inventory.